Krosmaster Arena in WAKFU: Last advices
2012-12-10 16:15
Back to list
how to discover krosmaster in game?
We have made it so that you can know everything about Krosmaster Arena without leaving your favorite MMO!
Here are
3 ways
to make your first encounter with Krosmaster in game...
By meeting Chasa in Astrub
This character is waiting for you
next to the tavern in Astrub
. Talking to him will trigger a quest that will offer you to start your collection of figurines.
By looting your first Small Krosmaster Trinket Box
The
Krosboxes
are "blind boxes" containing a random Krosmaster figurine. You cannot know what figurine lies in your box before opening it. The Krosboxes can be obtained on all the creatures of the World of Twelve. The first time you find one and open it (using a simple double-click!), it will trigger a quest asking you to find an Arena table game. Yep, we will have to see what this is!
Entering a Gambling Joint
There are Krosmaster board game tables in all Gambling Joints of the World of Twelve
. As soon as you enter one of them, a quest (daily) will trigger asking you to go to a board game table,
win a game
, making you compete against your first opponents!
Each of these quests goals is to
guide you in your discovery
of the rules and the art of Krosmaster Arena.
The competitor
The first goal in Krosmaster Arena is obviously to
get you started in the competition and become the best ranked player
(part of the ladder)! Your efforts will bring you more than just glory...
The Kroz
! This "trade currency" can only be obtained by
merit
, during
punctual events
such as
tournaments
, but also at the
end of each Krosmaster Arena ladder season
. Thanks to them, you can
collect exceptional items
such as
Ultimate sets
or
exclusive weapons
! These objects will be available first on the WAKFU website for a preview, until Kroz become available for you to use. You got it right:
Only the most deserving players will earn Kroz and therefore access to this content
!
The collector
Competition, it is not your thing? You're more of a collector, playing without any pressure? So Krosmaster Arena is also for you! With
more than forty collectible figurines
, the Krosboxes are yours! As explained above, these can be found on all the creatures of the World of Twelve. There are 2 types of Krosboxes that come into play: the "
classics
" and "
prestige
". The Prestige Krosboxes can only be obtained on bosses (level 30 minimum) but give you more chances to find a rare figurine when you open it. There will indeed exist
3 degrees of rarity for figurines: common, rare and legendary
.
The player
Krosmaster Arena is also a whole bunch of
quests
with their associated
rewards
. Going from the daily quest offered in various nations Gambling Joints to a longer quest waiting for you in the center of Astrub!
The crafter
You are not a competitor or a collector? Then you are probably a crafter! Krosmaster Arena figurines can be used in
dozens of recipes for the Bakers and Handymen
: Haven Bag decorations, board game tables, Krosmaster display windows, consumables ... There will be something for all tastes and all levels.
You're not any of the 4?
Then
resell your figurines
in the Market! There will surely be a competitor, a collector or crafter interested... A special category has been added to the Auction Houses during the last update, for any item related to Krosmaster Arena. Enough to give crazy ideas to the most Enutrofs of you!
Krosmaster showcase dedicated to the Krosmaster figurines has been added to your Haven-Bag
in the room dedicated to the management tools: It can contain all existing figurines in 2 copies. This display is also placed
in all Gambling Joints in the World of Twelve
. In addition to this, additional Krosmaster display windows can also be added to your Haven Bag thanks to crafting and the Boutique.
In the game
when you loot a Krosbox, it appears in your classic inventory
. To open and discover what lies within, you must double-click it. A one-armed bandit will appear on your screen with the entire catalog of figurines: A few seconds and that's it, you discover what figurine you inherited! It will then appear in your inventory and you
just have to double-click it to send it automatically to the Krosmaster Arena Display Window in your Haven Bag
!
You can also
find your collection directly into the Krosmaster Arena game
from the game main menu.
Important detail:
The collection is linked to your account
. You can consult it at any time, from any character, especially from any game (WAKFU, DOFUS or Krosmaster Arena).
Whether you're a Premium Member or not
, you can play Krosmaster Arena.
A simple click on a board game table and go
! Your character is positioned and Krosmaster Arena launches directly on your WAKFU game screen: It does not open any Internet browser. Indeed, during this time, your character remains present in game (in WAKFU) without being disconnected (it can however not be attacked or traded with).
Once this is done: furious duels will be yours!
You can leave Krosmaster Arena at any time to return to WAKFU, at the end of your game, or from the menus (by clicking on the small cross on the top right of your Krosmaster Arena game screen).
The board game tables are interactive for all and not limited to two players
, so you can all click on the same table to play since it does not affect the
matchmaking
in game.
XP
Through quests. For example, the daily quest will give you 15,000 experience points if you win a game of Krosmaster Arena!
Kroz
That can be
used in a shop
offering
rare items
that can only be purchased with this trade currency!
Equipment, sets, insignias and titles
With Kroz, but not only that! You can also
earn equipment by completing quests
related to Krosmaster.
Pets
The
Krosmadex
is the "dealer" dedicated to Krosmaster and can be found next to the tavern in Astrub. You will get one of four
Krosmunster
pets in exchange for a "Krosmaster Ball" token that you can get when helping Chasa ... We shall say no more!
Consumables and Haven-Bag decorations
Do you have too many figurines but you do not want to part with them? Transform them through craft!
Handymen
and
Bakers
have several recipes with main ingredient being the fruit of your Krosboxes.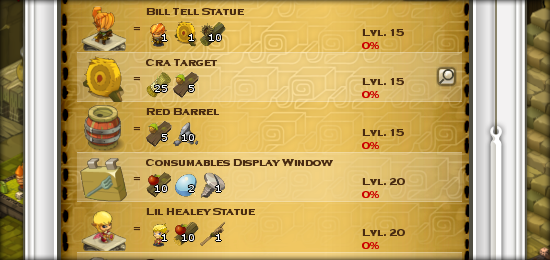 Kamas
Yep, you can always
sell your figurines
! We already an idea of the ones that will be sought after on the Market... But you can also sell your non-opened Krosboxes! Ecaflips will surely love this idea ...
Glory!
Because we can never have enough...
Now you know
everything about Krosmaster Arena
and should be able to start your hunt for Kroz!
See you tomorrow
in the Gambling Joints
!