The story of Magmog the Gobbalrog has been revealed! Discover his tragic past and begin your quest to defeat this Ultimate Boss located within the depths of the imposing volcano of Brakmar.
Far away from civilization, in the volcanic and desert lands of Sidimote Moors, a fiery beast awaits…
Located deep within the heart of the volcano of Brakmar, lurks a creature bleeding of molten fire and rock. Confined to his lair of unbearable heat, he silently awaits adventurers who have the audacity to enter the gates of his estate. Nobody knows where he comes from or how he came to be… but fortunately, we have carried out some extensive research so you will be able to discover this creature for yourself.
Magmog is a Gobbalrog
. A fire Gobball that was
created by the brothers Karibd and Silar
, the same two brothers who allowed the Shushus to invade the World of Twelve.
Karibd's Journal
Here are excerpts from the Journal of Karibd that have been uncovered:
Journal of Karibd - Part 1
Silar received a book by sheer luck today. It looks pretty old and
seems to whisper words of an ancient type of magic
.
I feel that we are approaching our goal. This time, the Gobball doesn't seem to be in pain and feel the heat so much when he's lit up. Unfortunately, that didn't stop him from turning into a burnt Gobball in the end though. At least now we have something to eat tonight…
This is it! We finally managed to ignite a Gobball without killing him! I nicknamed this one:
Magmog
. He even appears to be heating up the whole room. He's even better than a fireplace! Regrettably, he has already burned two of my pants, as well as the carpet, by rolling over them. This little experiment might just end up costing me a lot.
Journal of Karibd - Part 2
Magmog has grown a lot recently. He doesn't eat that much but he seems to absorb any flame that happens to be nearby. There's absolutely no hope of lighting a fire in the fireplace, and even less chance of lighting up the lanterns. He has become our only source of light in the house. The problem is that we can't figure out how to switch him off at night so that we can finally sleep.
This cannot go on! He set my Wodent on fire, just by rubbing up next to it. We'll have to separate ourselves from
Magmog
. Silar has spotted this grotto near the volcano in Brakmar.
Magmog
will feel much more at home there, and he will be less likely to burn anyone.
Brakmar's Gate
The Magmog quest begins in the Sidimote Moors in Brakmar. When approaching the lair of this nightmarish creature, you can see a mysterious door at the foot of the volcano. This door is engraved with an inscription of an unknown language. The sight of skeletons lying on the entrance of the alleged cave can only make you shudder with fear, or excitement, at the idea of ​​what you may find behind the wall...
Deciphering this message will not be an easy task, and your journey will take you to the Undieworld where a riddle will be waiting for you, and then to Forfut, its castle, and its library...
The Burning Crusade
Once you have gathered all the elements required to understand the message, you learn that you will need to get the fire of the Brakmar volcano to open the door. To retrieve it, you find a well hidden Zaap that will take you directly to the heart of the volcano. Once inside, inflamed monsters awaits you.
Embers of Fire: Magmog Awaits
You are almost there! You will just need to continue through the mysterious door (thanks to the Volcano Fire) to find yourself in
Magmog's antechamber
, and then discover the warm companion awaiting your visit.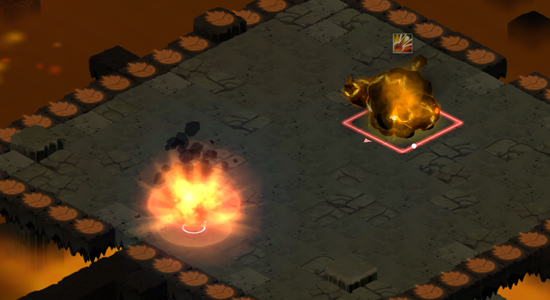 Rewards
There are many great rewards
that await the courageous adventurers who passed this fiery test without the fear of being roasted.
Legendary Items
Gobbalrog Set

Magmog Set
So what are you waiting for!? The Magmog is eager to set you on fire! Encounter him in Brakmar today!