Hey there, I'm Thaine
I'm the leader of this snazzy guild called Hephaestus right now, we're only level 4, we're a pretty brand new guild right now only 4-5 members online daily, " we have to get this up" ! yeah !* random noises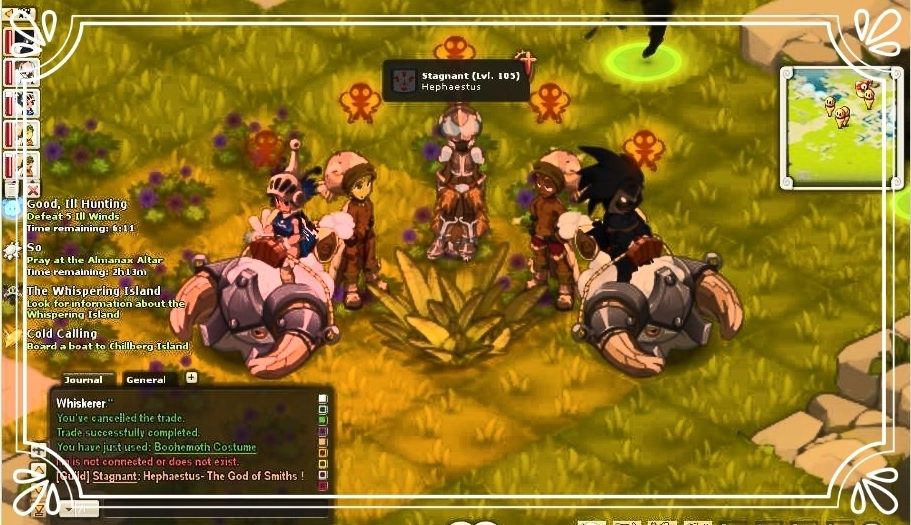 Why should you join us ?
Right now, we're a small new guild, but we're a family, we're always joking around
and never take it seriously, because that's how a family is, we help each other
we make jokes and game together !, so if want to join our family, we welcome you
with open arms
!.
Guild requirements-
Don't abuse your guild rank ( that's not fun you guys!)
We make jokes, but never go to personal
Do no start any guild wars, seriously guys don't, new guild here, we'll get crushed yo !
Do not steal from the guild,
Minimum level to join
Hahahahaha ... yeah right , " we accept anyone"
Nation
We are the great nation of Amanka !!" Smells mhmmm greeny"
Languages

The main language is spoken is English, but Dutch is also welcome
How to contact us ?

Leave a message here or just pm us ingame
~ Thaine/Stagnant
Dargonette /Darlah Strinity.
Leaders

Thaine ( Stagnant)
Dragonette ( Darlah)
Score : 2

XzarahX
September 01, 2015, 18:09:31
You forgot to say we also have melons

Awesome guild peeps!!!
Score : 292

Welcome new guild

Can't wait to see you guys grown and become strong!
I shall be watching :@

:tap:White Knight:tap: (i have a tagg
)
Score : 20

MDShylock
-
MEMBER
-
December 05, 2015, 22:59:29
Hi! I'm interested in joining your guild. You seem really nice! I want to help you guys level and grow.

My IGN is Al Senpai (Lowercase L). I'm normally on between 8-12 PM EST most days. When would it be best to see you guys online?
Score : 2240

Thaine and Dragonette, those names seem familiar.
Seeming as I am guildless ATM I'll try and make contact with you tomorrow.
Score : 974

Heyo,

I am about to start a fresh adventure on Wakfu again. I would like to help you guys grow and play active and friendly people. I speak Dutch and English fluently.

My IGNs are Wress & Akigra.

Hope to catch you in game!
Score : 85

Ryuuto1
December 06, 2015, 20:22:47
Could I join?

I'm returning from a 3 year break from the game and I'm slightly confused with...everything. I hope to have a good time in this guild, it seems pretty cosy since it's small and all.

+ guilds in wakfu are amazing so yaaaaaaaaa.

IGN : Youth / Tariqo

Also, my eni (Youth) is in the Riktus clan somehow so I'm using my alt (Tariqo) to farm iron ores so i can turn it into kamas. 10k more kamas to go...yay : (