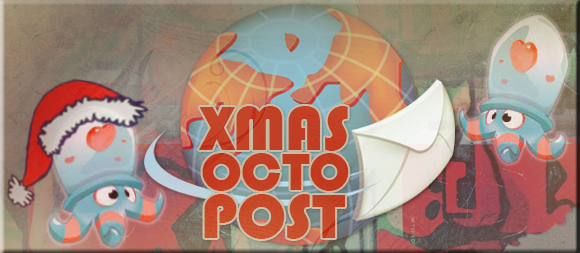 Hey Remingtonians! Guess what? Yea, it's Holiday Season yet again, who would've thought? And we, the High and Mighty Naughty Tentacles have yet again prepared an event for y'all. How would you like to connect with other people on a whole next level? No, not the spiritual one. I'm talking Secret Santa Xmas Postcrossing Marathon, and I've yet to come with a meaningful-yet-cute abbreviation for that, so please send help.
But that's enough chit-chat, let's just get to it. To straighten our tentacle-bond, this year we'll be sending each other real-life postcards. Yes, you read it right, via Snail Mail. Each week, till the end of the year, we will collect your oh-so-personal data aka home addresses, assign numbers to each participant and randomly give them to other participants, so they can send each other stuff. Don't worry, only the organizers will have access to all the addresses, participants will only receive an address of a person they're supposed to send a card to.
So here are some rules for you to follow:
Every wakfu-person is free to participate
To do so, join Naughty Tentacles Discord HERE, and DM Surr_#2762, aka#5539, PaganBlade#9622 or biscuit#2805.
You can participate once during each "wave" (week). Submissions are open from Monday to Saturday.
Your application-DM must contain your full name and post address (don't forget the zip-code). You can also include some themes and enclosures you would like to receive, but please remember that participants are not obliged to meet your requests. You can also add a bit of other info about yourself if you think it's necessary and clarify if you want the sender to know your Discord or Wakfu name. Please see the example below.
If you already participated in one of the previous waves, please include a photo of the last card/letter you've sent. This way we can be sure that nobody will be left without a surprise, all sad and disappointed.
Once your participation is confirmed by one of the organizers (usually in some form of "yeah okay, added ya to the list"), wait (im)patiently for the Sunday to discover who your addressee is. Remember that no swapping or declining is allowed.
Please try your best to send your cards/letters ASAP, because we all know how obnoxiously slow the Snail Mail can be (especially during the Holiday season).
IMPORTANT: DON'T FORGET TO TAKE A PICTURE BEFORE SENDING THE CARD!
Please do not post pictures of the cards you SENT anywhere "out in the open" or share them with other participants. But feel free to brag about the ones you RECEIVED here or in the postcrossing channel.
If you have any questions, please use the #xmas_postcrossing2019 section on a Naughty Tentacles Discord server
HERE
to contact us.
Waves schedule:
FIRST: November, 25 to November, 30
SECOND: December, 2 to December, 7
THIRD: December, 9 to December, 14
FOURTH: December, 16 to December, 21
FIFTH (last): December, 23 to December, 28
If the Postcrossing initiative turns out to be a huge success, we might keep it running a bit longer, but I'm not willing to commit to anything past December, 28 just yet.
And here is an example for you to follow:
Jane Swallow
90 Gutted Plaza #62
605151 SufokiaFav themes: ships, pirates, seas, tattoos, dwarf rabbits
Fav enclosures: foreign currency, feathers, stickersI am just a simple little captain. What would I like to know about? Well, your country, its naval fleet, royal treasury and the level of security there. I would also like my game/discord identity to remain hidden.