Hello, and praised be Osamodas. I'm a level 150 Osamodas on Rem and I'm here to bring you a build that I've been having so much fun with, Crackler Punch Osamodas. Please note that this isn't a complete technical guide because I've yet to reach level 200 with it, but as for a guide for something fun: you've come to the right place. This stuff is hilarious, and totally viable (at least up to where I've reached so far). Please note that this is my first guide and a bit WIP, so I'm eager to hear your feedback to improve it! Thank you in advance.

And with this guide, you too will be throwing FOUR Crackler Punches per turn! Wew. It's just beautiful. Let's get into it:

[Pros]
Great damage in AOE (that doesn't hurt allies!).
Great survivability against most enemies (due to insane range and summon meatshield)
High Risk/Reward options compared to other Osa builds due to Marrow Bone techniques.
Flashy as hell
[Cons]
WP burns quick, you need to switch to healing or support mid-fight against bosses or rely on your summon's damage.
Ranged/high mobility enemies can still sometimes reach your squishy self.
Can be extremely punishing if you use Marrow Bone incorrectly.
[What is this?]
A Earth/Fire Single Summoner build (not Dragon!). So you'll still be relying on your summon quite a lot for damage and utility, but this highlights something you'd do different than just summon/buff critters as usual: Your
main
(and
only
Earth) spell is
Crackler Punch.
Yes. This spell as a normal Osa is that good. Just look at this beauty:
-Crackler Punch has #2 Top Damage per AP-
Here you have a chart of all spells non-Dragon Osas have, for damage:
You might then argue, why not spam Feather Tornado then? Three reasons: Range, Ease of use and Bone Synergy. With the Bone, we can cheat out even more efficiency, but first things first.
-The Range is Nuts-
Other classes got to spend budget (equipment, stat points, passives...) into getting Range. But our Glorious Crackler Punch? It's unlimited. For free.
So, the usual strategy is to throw the summon in, run, and bomb those Crackler punches away! Oh, the summon isn't around anymore? The range is still 3 & unmodified, baby. You just can't stop it.
-Ease of Use-
The Area of effect on this thing is gigantic, and it can extend over walls, combined with the range, it's so easy to apply to enemies. Along with that it's one of the best AP-to-Damage spells, (even
better
single-target damage than your
single target spells
) it's a no-brainer most of the time on what to do: Use Crackler Punch!
-Bone Synergy-
Here's where things start to get really crazy. This little beauty makes the concept really shine, because it counts as another summon. Yes. You're thinking what I'm thinking.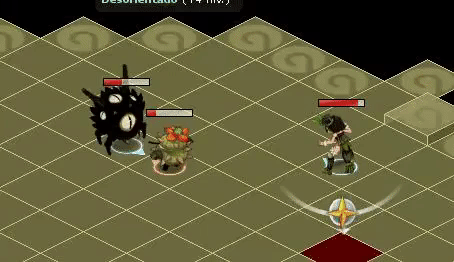 If you Crackler Punch on yourself, it gets an area of effect too. TWO Crackler Punches for the price of one!
The bone not only lets you throw out 4 Crackler Punches once prepared in a previous turn, but it also lets you use 2 Crackler Punches, cheaper! Instead of throwing 2 Crackler Punches (10 AP and 2W), throw the Bone next to your target, then Crackler Punch. (8AP and 1W!!!).
Note though that while the bone is up, your Beast Synergy and Sramva Slash won't work (if you didn't use this burst to kill the enemy), but you can just Spirit Whip the Bone away for 2 (or 1!) AP,
still
leaving it 1 WP and 0-1 AP cheaper than just using 2 Crackler Punches to attack the enemy with 2 Crackler Punches. Cheeky combos!
[Items & Stats]
-Items-
Simple. Get everything that improves your best spell, Crackler Punch. Your summon will improve because of it too (summons get your stats as usual always). That means Area mastery, Ranged Mastery and Earth Mastery. Since Boowolf is pretty much compulsory for any summoner Osa and Kwak gives Lock which is great to keep enemies near your summon and to spend spare AP, we have Fire as a secondary element.
-Stats-
- Intelligence: Health and Elemental Resistance.
- Strength: Ranged and Area Mastery, of course.
- Agility: Initiative, then Willpower (Evasion is rarely used in PvE with this because of the range abuse, and AP removal is more relevant) or Evasion.
- Luck: Berserker to buff the summon, or Crits to do more damage yourself.
- Major: AP, MP, Control
[Spells & Why]
Now onto actually playing this precious thing. Here is the deck I usually go with, although depending on context (your levelling area, dungeon, etc) , some spells should be added/removed:
Note that my ONLY Earth spell is Crackler Punch. The other Earth Spells don't matter, because Crackler Punch is an improved version of all of them. Getting more Earth Spells to improve your summon's survivability is a waste, because we already have the revival passive which gives your little critter all of the longevity it will need, and the Fire Spells have the good buffs. So, we got Sramva for summon mobility, Mass Charm to pull enemies in for a Crackler Punch, Wing and Bwork for utility, Magpie for Wabbit healing.
Why Mass Charm?
You get this spell from the Huppermage Quest, at level 130. It's very useful! You can use it to attract enemies to your summon for Crackler Punch (and make them stick to it harder, because of the lock bonus), and to escape! It creates better distance that Scaraleaf (1-2 cells instead of 1) and it can disengage you from more than one enemy! Not only that, but you can use it on allies too, allowing them to also escape or get enemies closer to them.
Why Beast Synergy?
Ok so most guides will already tell you that Beast Synergy is pretty nuts. But we make it even better. Teleporting your summon around is really good already on its own, but what's really notable for us is the switching part of it. When the enemy has reached you, it does two things which we want:
- Puts you away from the enemy
- Put the summon next to the enemy.
Not only that, but its the (only) summon-mobility spell that works while the bone is up, and it works with the bone as well! So you have two targets, instead of just one, for this play, would the situation arise. It's great!
-WP & You-
We're going to use a LOT of WP! As mentioned, this is only an issue during bosses - during most fights/dungeons, you'll kill the enemies before you run out. However, when the moment comes that you do end up really low on WP - what should you do?
For this, we have two tricks:
Switch roles: You're still a Summoner Osamodas, and therefore are a better Animal Linker than a Dragon! Just Animal Link your DDs or whoever needs it and let them continue the job for you. Due to the Crackler Punch focus, we're AOE attackers. Which is best when there are a lot of enemies, which there won't be anymore later in the fight because, heh, we would've helped kill them. So once you've done your job and run out of WP, just go back and chill at supporting your teammates.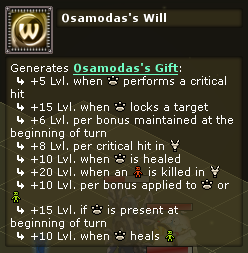 Cheese out more WP: The bone can make more WP for us, via Osamodas' Blessing! (And our summon too!) Think of each level as a fraction of a WP. This requires a lot of micromanaging for each little bit of gain, but it works out well. What I sometimes do is leave the pet out to roam around and have the bone a couple of cells in front of me to block enemy LoS, serve as a WP engine, and be emergency ticket to teleport out of range of enemies.
"+5 lvl when pet performs a critical hit" doesn't apply to the bone because it can't crit.
"+15 lvl when pet locks a target" does apply to the bone! (Although its hard to pull off, because the bone has 0 lock and you'd need to buff it)
"+6 lvl per bonus maintained" does apply to the bone! That means that you can apply cheap buffs like Scaraleaf and Kwak to it to make it start to generate more WP for you!
"+10 lvl when pet is healed" does apply to the bone! And it also applies when the bone heals your summon! With Magpie, you can heal the bone (which damages itself constantly anyways) plus give it the Magpie buff. And if you position it right, you can heal both of your summons for +20 Osamodas Blessing per cast, plus the buff.
"+10 lvl per bonus applied to pet" does apply to the bone! Get those cheap buffs on it!
"+15 lvl if pet is around" doesn't apply twice. If you have just the bone, it applies. If you have just a summon, it applies. If you have both, it only applies once.
"+10 lvl when pet heals player" does apply when the bone heals someone!
Have fun!
Thank you for reading!
Score : 168