Year-end treasures are available for pre-order from the Ankama Shop! The first one contains the best illustrations from Xa, Maba, Ancestral Z, Ntamak, Mig, Nicola Saviori, Ashvey, and Benpi to have appeared in Gamakna. The second one… has the same! But it also includes access to DOFUS and WAKFU items before anyone else, and more yet…
The end of the year will be devoted to the Ebony Dofus and its dragon Grougalorasalar (maybe the critter will even light a bonfire for the occasion). That is why both are now available for you to enjoy. It's heating up!
ARTBOOK: THE ART OF GAMAKNA
If you're fascinated by precious artifacts and dark creatures, you'll most definitely find something of interest in the Art of Gamakna artbook. Its gloomy, elegant cover represents the whole mystery surrounding the Dofus and its dragon. It contains the finest illustrations done by our best artists for the first six issues of Gamakna. This wonderful book was made with the heart, passion, and fire burning in each of us for our worlds!
BUY IT FROM THE ANKAMA SHOP
EBONY DOFUS PACK
It's a complete package already available for preorder! Check out what's on offer!
Details:
Artbook: The Art of Gamakna
Board game: Brothers
WAKFU card: Temple of Scriptures Costume (be among the first to get this!)
DOFUS card: Ice Rhineetle Harness (be among the first to get this!)
Ebony Dofus Pin
Pack of 6 DOFUS Posters

Plus, the first 40 buyers will receive a copy of the artbook The Art of Gamakna signed by one of the artists featured in the book!*
So hurry! There won't be enough for everyone...
BUY IT FROM THE ANKAMA SHOP
* Offer only valid for the purchase of an Ebony Dofus Pack, once per account, and while supplies last. If you qualify for the offer, the signed Gamakna artbook will appear in your cart.
First Ankama intervention
[Flatops]
-
ADMINISTRATOR
-
November 12, 2018, 05:21:15
Replying to Foju
Hi Foju,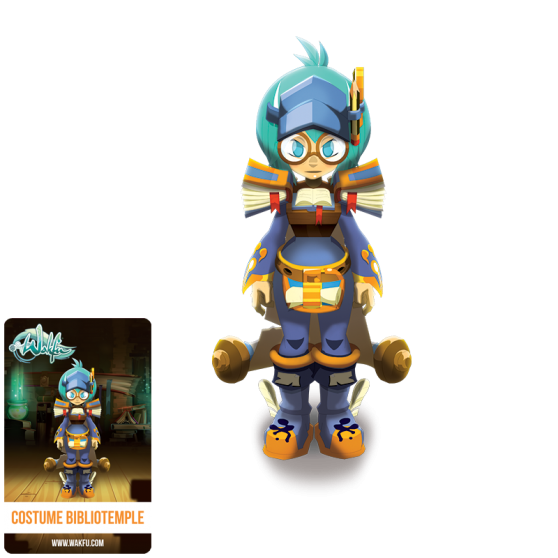 See message in context
Score : 103

Score : 11746

Score : 1729

Foju
-
MEMBER
-
November 10, 2018, 03:23:05
WAKFU card: Temple of Scriptures Rat < is this an in game costume ?
Score : 208

ThisisBot
-
MEMBER
-
December 03, 2018, 05:40:20
In the description it only says that the package will be delivered/shipped sometime in December 2018, is there a more specific date that we could expect them to be shipped or will buyers be notified by email or something?
Score : 356

I find it very sad that it is linked, now I have to think twice about whether I next buy something or not.
It was nowhere that it is Linked what I do not find Ok, but otherwise everything was great what I received
Score : 356

and the code for dofus is not working, very good ... (I have already reported it to support because of the Dofus code)