Shop: Black Friday Madness!
Shop - November 28, 2014
What is Black Friday? It is the time of the year when the World of Twelve's adventurers get to visit the Shop and enjoy special promotions, and the time is now! Starting today until Monday 1st of December, benefit from a bundle of discounts that may make some Enutrofs wondering where all those mad discounted prices comes from.

Shop: Get Your Drago-Steed On!
Shop - November 27, 2014
Ah the smell of a perfectly cooked Stuffed Dragoturkey… But wait a minute we are talking Drago-Steed here, and while we may feel Skank Hivin in the air, we are here to offer you a special
30% off the Drago-Steeds in the Shop until Sunday November 30th!

Event: Skank Hivin Bonus Weekend
Event - November 26, 2014
It's Skank Hivin this weekend! And tradition dictates that we should eat a nice big stuffed Dragoturkey to celebrate… but it's also a time for us to be thankful to you, our loyal community of adventurers! To celebrate, we are offering you a Combat EXP and Kama bonus weekend!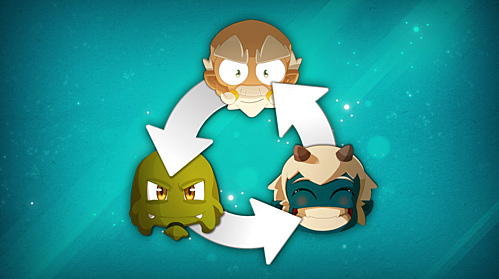 A new Class for Your Character?
Info - November 24, 2014
You've loved him just the way he used to be all these years, but you know him by heart now... And starting it all again, back from level 0, with a new character? No, thanks! But what if your character could change classes while retaining all of his power and glory?

The Virulent Treacherose, your new Sidekick!
Shop - November 21, 2014
Some of you already acquired it from Japan Expo or from the special 10 years Ankama Convention. We promised you that with a little patience it would eventually come to all adventurers and here we are! The Virulent Treacherose is here!

Shop: Children's Day Promotions
Shop - November 20, 2014
Today we celebrate the International Children's Day and we would like to do so with all of our International community by offering you special 20% discounts and other surprises until November 23rd only!
After an eventful investigation, we continue to strongly suspect Fhenris to have kidnapped the Saintly Cotton. But whatever! Let's not run after a possible ghost of our imagination, the main thing is:
The Saintly Cotton is back!

Al Howin: The Curse Comes to an end!
Info - November 17, 2014
Pfew... Alright! You can finally breath free, the curse of Al Howin is past! Did you vanquish the wicked witch? If you did, then rejoice. Just... with moderation. She might just get back on her broom next year...