2015 Ankamerica Tour: PAX Prime
Info - August 24, 2015
Our
2015 Ankamerica Tour
continues! Let's have a look of what will await our visitors from
August 28th to August 31st
in
Seattle
USA
at
PAX Prime
!

Ankama presents: Tactile Wars
Info - August 21, 2015
What do Ankama employees speak about outside of work? Well, they talk about video games of course! And just sometimes they come up with a new idea or a new project. This is more or less how Tactile Wars came into existence. If you like playing and exploring in other games apart from your MMO, keep on reading...

Introducing the... Krosmoz Harness!
Shop - August 18, 2015
This summer, like every summer, an unquenchable thirst for adventure has taken hold of you. But what if instead of setting off in search of adventure, this time you let the adventure come to you? Non-stop travels await you with the
Krosmoz Harness
! Available in the shop for
3,500 Ogrines
, it's definitely out of this world!
The Heroes System - Companions
- August 18, 2015 -
This is the second Devblog on the Heroes system. We're going to go into more depth on the whole idea behind companies, on how they work exactly and on the gifts that are associated with the system.
With the temperature rising, the beaches of Wakfu finds themselves more and more crowded, so here is a great occasion to show off your best summertime memories by participating in this fanart contest and win prizes, starting today until the 31st of August!

The Summer Pack is here!
Shop - August 14, 2015
Crikey crustaceans! Rolling in from the tide is a brand new Booster Pack:
The Summer Pack.
You don't need to tire yourself out digging for Kamas in the sand, the only treasure you'll need this summer is the new pack; available both in the Shop and on Steam.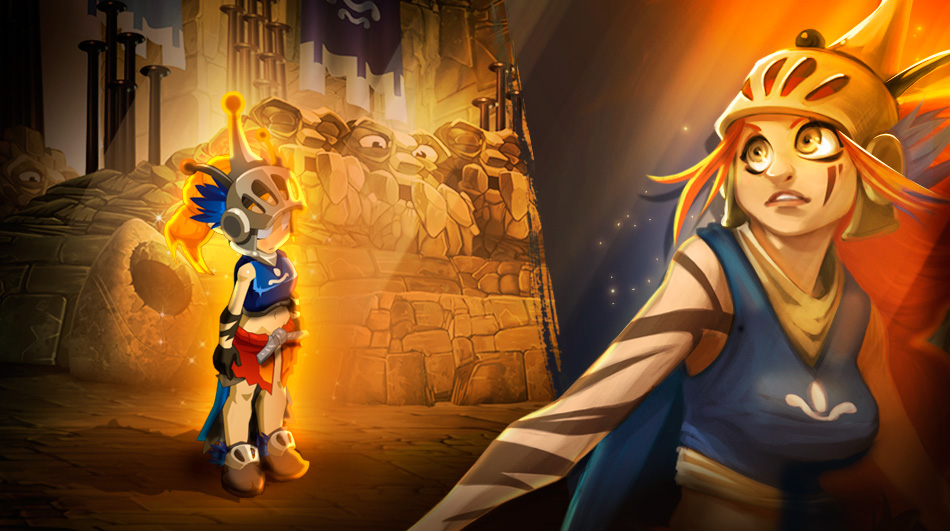 Compensation: Forfut Frenzy Update
Event - August 13, 2015
Due to the Forfut Frenzy update downtime and subsequent hotfixes, we will be offering a compensation package for Twelvians: ten days of Booster time, a costume, an emote and some growth kibbles! On top of that, we will also have two Bonus XP Weekends to help you catch up with your adventures in the World of Twelve.

New account management!
Info - August 05, 2015