July 04, 2012, 18:27:38 |
#1
Inside Ankama On Air - Episode 33
As every week, we recorded a new episode of Inside Ankama on Air, just for you! Well, maybe not every week, but we can't help it, 3 is such a nice decimal…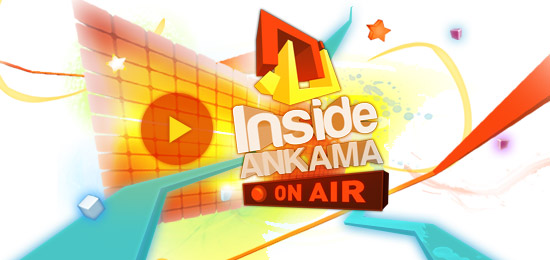 Hosts: Izmar and Troyle
Topics:
Vulkania is back, Goultarminator, Miss & Mister Amakna, WAKFU update, class balance, Monster Mash, and some more spoilers!
It's been so long since we recorded this Epic NPC Theater, that it took Troyle his best recall skills to remember the name of this NPC. The right answer was of course Dhan Sominik Kraust from the Monk Island!
A total of 9 entries were received, and after a wild fight in our temple of randomness, a winner came victorious!

Congratulations to Mattus90!
DOFUS people, Izmar was very kind to you this time, and performed a NPC that you should all know! No excuses will be allowed, we expect the highest participation as usual, and even more! Just send in your entries to
insideankama.en@ankama.com
. The winner will be drawn at random from all the correct entries on the next episode of Inside Ankama On Air!
You think you can do better? Send us your performance! We're opening the Epic NPC Theater to our audience! Just embody the NPC of your choice, record it in a mp3, and send us the file to
insideankama.en@ankama.com
!
---
If you have questions you'd like to hear answered on the podcast, drop us an email (insideankama.en AT ankama DOT com), or better yet - leave us a voice message on Skype!
We're looking forward to hearing from you!